About Adelaide Convention Centre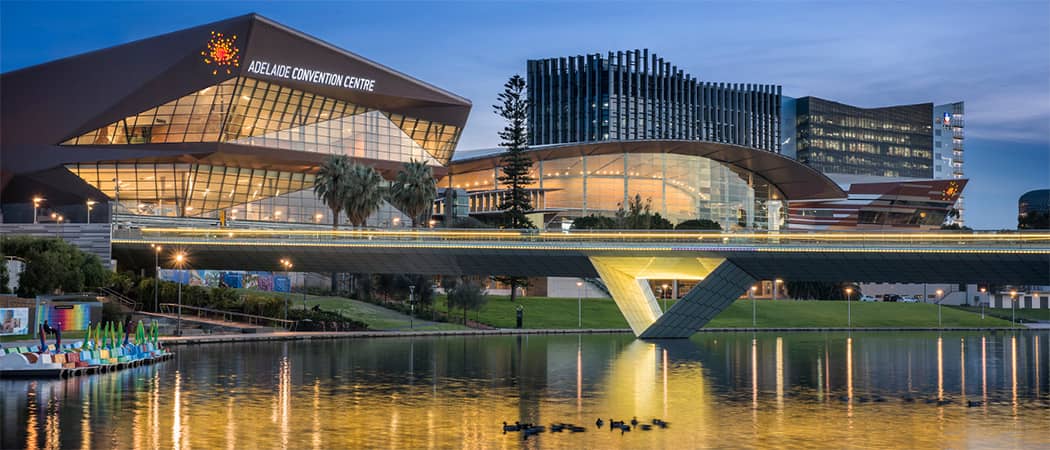 The award-winning Adelaide Convention Centre has a global reputation for excellence and is consistently ranked amongst the world's top convention centres. Located in North Terrace, Adelaide, Australia, ACC is the first purpose-built convention in Australia. The Centre is conveniently located in the heart of the city centre and nestled within the beauty of the Riverbank Precinct, surrounded by parklands and looking over the River Torrens.
Within close proximity to the medical hub, entertainment, cultural and sport precinct, the Centre is a short walk to international and boutique hotels and accommodation. It is within walking distance of Australia's longest shopping mall and upgraded sporting and entertainment venues. Public transport, the Adelaide Railway Station and a taxi ramp are on the doorstep. The international airport is just seven kilometres from the Centre.
About Adelaide
Nestled between the hills and the ocean, the city of Adelaide in South Australia is quickly becoming the lifestyle capital of Australia. Well-known for its wine and food culture, this city is undergoing a rapid transformation with a burgeoning small-bar scene, world-class festivals and amazing eco-adventures. Voted as one the world's top ten cities to visit, it is the rising star on Australia's tourism map.
This picturesque city with a cosmopolitan spirit offers amazing wildlife including kangaroos, koalas and other native species, dolphin watching, lush green hills in the wine-growing districts, stunning beaches, wide shopping options, throbbing cultural scene, river cruises, access to the outback, heritage streetscapes, charming buildings, public art, and more. With its compact dimensions, Adelaide is widely recognised as "the 20-minute city," making it easy to get to, easy to get around, and easy to pack in a lot without feeling rushed.
Weather
In April, Adelaide is in the middle of Autumn season. The weather is pleasant with average temperatures between 12.7 - 22.7°C (55 - 73°F) and very little rainfall. The city and countryside take on a red, orange and golden hue. This is the most perfect time to experience the city.
Visa
Under Australia's universal visa system, all visitors to Australia must have a valid visa to travel to and enter Australia (other than New Zealand passport holders who will normally be granted a Special Category visa on arrival, provided they meet health and character requirements; and permanent residents of Norfolk Island who may be granted a Permanent Resident of Norfolk Island visa on arrival). For more information, see the fact sheet: http://www.border.gov.au/about/corporate/information/fact-sheets/17nz
There are many visa options available to people wishing to visit Australia. The appropriate visa option will depend, amongst other things, on the person's purpose for visiting Australia.
Processing times for visas can vary from less than a day to several months, depending on the type of visa applied for. Longer processing times may be required if the visa requires sponsorship and nomination or if character or health checks are necessary. We recommend you apply for your visa 3 months in advance.
Please click here to download the Business Information Sheet for guidance on the visa options that may be most suitable for you. We also suggest you read the General Information for Visa Applicants by clicking here.
Currency
The currency for Australia is Australian Dollar (AUD)